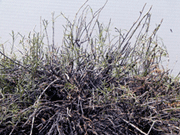 Grazed rabbit brush
Huntsville, UT
A coaching program helps Danny and Marie Johnson teach their 40 mixed age cows to eat musk thistle and rabbitbrush.
By fall, cows were eating a lot of rabbit brush.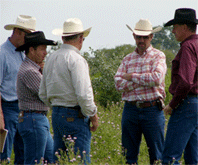 Strathmore ranchers stand in the Canada thistle and talk about what the advantages of cows eating it for them.
Strathmore, AB Canada
Another coaching program teaches cows to eat Canada thistle. I worked with Rod Vergouwen, of Flying Heart Homestyle Beef, sending him the information and daily instructions to teach his cattle to eat Canada thistle.
Once the cattle were eating the weed in pasture, the local forage council invited me to make a presentation to area ranchers. Rod said the project had been very easy, and other ranchers were interested in getting started at home.
Pagosa Springs, C0, 2009: Yellow Toadflax
The very first coaching program debuts, communicating over phone and email to teach heifers to eat Yellow toadflax. The rancher who leases the pasture was happy to have his cattle trained and the landowners, Cary Ellis and Randall Davis won't have to work so hard to contol the weed.


Justin says,
"We just can't spray this stuff, there's too much of it. I was optimistic, but this blew my expectations away.
Round Up, MT, 2009: Dalmatian Toadflax
Montana cows learned to eat Dalmatian toadflax in this project led by the Natural Resources Conservation Service. I provided the information for the grant that funded the project, and the training steps to help them along the way.
In May of 2009, Justin Meissner of the NRCS and a local rancher trained cattle to eat dalmatian toadflax. He invited 2 skeptical ranchers to watch on the day the trainees were turned into their trial pasture to begin grazing the weed. Justin says they told him: "We thought you were crazy for considering this. But after seeing this we'd like to try it on our places."