Grant-Kohrs Ranch 2004 -

The original training steps are developed as cows eat Canada thistle, leafy spurge and spotted knapweed.

Grant-Kohrs Ranch 2005 -

Cows teach their calves and they eat leafy spurge in pasture.

Boulder County Colorado 2007 -

See the refined training process at work as cows learn to eat late-season diffuse knapweed.
Rancher Interviews: Ranchers that have participated in the project share some of their thoughts on it: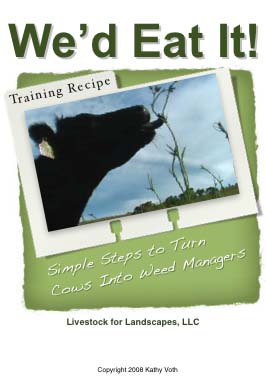 $35.00 plus shipping and handling
Prefer not to use PayPal?
Send an e-mail to me at kvoth@livestockforlandscapes.com for information on how to order using your check or money order.