Goats are a great tool for managing vegetation, particularly in urban areas, or on the edge between communities and "wildland" areas. As one happy fire chief told me, "They're up every morning, they go right to work and they never complain." Their small hooves make small impacts, they can work in places where mowers and people can't, and they don't raise big smoke plumes or affect air quality. When managed with care, they also have a smaller carbon footprint than your average community mowing operation.
But when I started my 7 year project, I heard plenty of complaints about goats. Mostly they were about goat escapes because of herders who left out of boredom, or about the way billy goats smell. My own complaint would be that they are way to smart for my own good, so I have to always think ahead.
So I set out to find or create solutions to those problems, and to develop an "instruction manual" for folks just getting started and communities interested in successfully using this tool.
The practice of using goats is growing nationally, and internationally. I hope you'll use my experience to make your transition to goats successful and worry free. Let's go goats!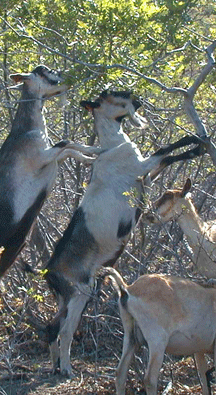 I was a novice when I started my 7 year project. So when it came to writing the handbook on CD, I made sure it answered every question I'd ever had, or that anyone had asked me. You'll find all this and more:
Does it work?
What's the impact on vegetation?
Does fencing work and how?
How do you write a contract?
What should I expect from my grazier?
How do I market my services?
How do I write a business plan?
What breed of goat is best?
What should I know about goat health and kidding?